Growing the FRESHEST and HIGHEST QUALITY Portabella Mushrooms in Hawai'i
Our Mission
Learning from nature. Mirroring ecosystems by promoting biodiversity, reusing underutilized resources and growing organic produce to better the community.
How does a green recycling company give rise to an USDA certified organic mushroom farm?  The organic material from our recycling operation makes for fine compost, which happens to be perfect for growing mushrooms! Thus Small Kine Farm was born.  Not only are we the only Portabella farm in Hawai'i, but by using our own compost and a high-tech pasteurization and growing process, we have been able to produce safe, high-quality mushrooms with better taste, texture and a longer shelf life than Mainland competitors…they even LOOK better. See our Prezi presentation here.
Media Coverage
Honolulu Magazine: Farm Friday: Small Kine Farm in Waimānalo
Midweek: A Small Farm's Answer To High Cost Of Imported 'Shrooms
Hana Hou Magazine: Native Intelligence
UH Sustainable and organic agriculture program's newsletter: Hanai Ai – featured farmer
Waimanalo Market Co-op newsletter: Locally grown Tutu and Keiki Portabella
Farm and Food Magazine: Small Kine Farm
Innovate Hawaii: Success Story
Video Interviews

Creative Media students produced this video for the Hawai'i's Dept. of Labor and Industrial Relations farming campaign, it focuses on the diverse farming industry and the viability of farming as an occupation. See how Small Kine Farm shakes up farming industry in Hawaii
ThinkTech Hawaii: A Tale of Two Farmers: Terry Shintaku and Fung Yang
Hawaiian Grown TV: Button Mushrooms – Small Kine Farm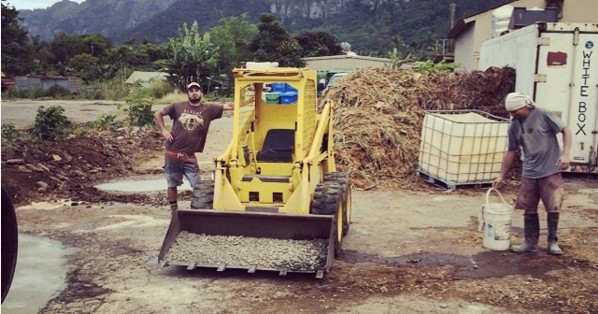 Contact us: By email to:  smallkinefarm(at)gmail.com or phone us at (eight zero eight) Two Six Two – Two Seven Two Four.